The Center for Research Use in Education is "Rethinking Research for Schools" (R4S)
Our mission
 is to expand the study of research use and produce a more holistic picture of what drives it, from the production of knowledge by researchers to the application of research in schools. We also seek to identify strategies that can make research more meaningful to classroom practice.  
Why Research Use?
  At our center, we believe that education research is an important part of the educational process. We further believe that rigorous evidence, whether qualitative or quantitative, can foster better opportunities and outcomes for children by empowering educators, families, and communities with additional knowledge to inform better decision-making. For this reason, we seek to support strong ties between research and practice.   
What do educational professionals use to inform what happens in their classrooms, schools, and districts?
This is the purpose of the survey sponsored by the U.S. Department of Education's Institute for Education Sciences (IES). School Districts (20) and charter schools (20) have been randomly selected to participate in this survey. These schools are currently being contacted by our staff inviting them to participate. Ultimately, we will have information from 300 schools and over 12,000 teachers and school administrators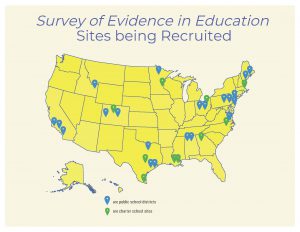 Learn more about Research4Schools