The Center for Research Use in Education is "Rethinking Research for Schools" (R4S)
Our mission
 is to expand the study of research use and produce a more holistic picture of what drives it, from the production of knowledge by researchers to the application of research in schools. We also seek to identify strategies that can make research more meaningful to classroom practice.  
Why Research Use?
  At our center, we believe that education research is an important part of the educational process. We further believe that rigorous evidence, whether qualitative or quantitative, can foster better opportunities and outcomes for children by empowering educators, families, and communities with additional knowledge to inform better decision-making. For this reason, we seek to support strong ties between research and practice.   
Postdoctoral Research Position Available
We are seeking a Postdoctoral Researcher to work under the direction of the Principal Investigator, Dr. Elizabeth Farley Ripple.  This person will play a key role in the qualitative and mixed methods dimensions of the project, including sample recruitment, instrument development, data collection and management, data analyses, and production of reports and articles related to education research and its transition into practice and policy. 
The goal is to fill this position in fall of 2018.  To learn more about the position and to apply, click here.  The position will be open until a suitable candidate is identified. 
Educational Researchers' Survey Launched
The Center is currently disseminating a pilot survey to educational researchers to help better understand and describe the relationship that currently exists between the communities of researchers and school-based practitioners.  Please click here to take a survey to help answer questions about these topics: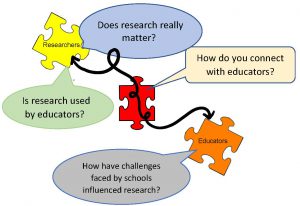 Please share your experiences by taking this survey.
Those who complete the survey will be entered into a raffle to win an iPad.  We greatly appreciate the time of those who help us to advance our understanding of how education research impacts educational policy and the decisions made by teachers and school districts. 
Learn more about Research4Schools