Identifying Research-based Edtech with Product Certifications
We've all heard edtech developers claim their products are based on research, and we're familiar with strategies policymakers have used to call for edtech to be research-based. Yet, many of us are left wondering what actually qualifies a product as "research-based"
In 2015, a report from the Joan Ganz Cooney Center found over 70 percent of the 180 most popular literacy apps made no reference to research or learning expertise in the design of their products. In response, Digital Promise, a national education nonprofit working at the intersection of educators, researchers, and developers, ran a crowdsourcing campaign asking developers to share the science behind their products. Through the campaign, we learned some products do incorporate research that largely falls into one of three categories:
Learning Sciences: using scientific research on how people learn to inform product design.
User Research: gathering information about how people are interacting with the product to improve user experience.
Evaluation Research: determining how effective a product is at meeting its intended outcome.
The Emergence of Product Certifications
Digital Promise recognized that "research-based" had become a vague term across stakeholders and, with no clear definition, the term was rendered meaningless to education leaders. Over the last few years, we launched projects like the Edtech Pilot Framework to help these leaders and supported more than 50 educators in gaining piloting skills to measure the effectiveness of tools in their schools and classrooms.
Last year we conducted a listening tour to hear about the challenges of selecting edtech. We spoke directly to educators, administrators, nonprofit staff, and product developers. Through these conversations, we heard:
The limited information available about edtech products is hard to find and rarely trustworthy, timely, or relevant.
Educators, administrators, and investors do not have established common language or definitions to assess the quality of edtech.
Vendors lack incentive to design for unique learners; instead, many share a concern that vendors' focus on profits pushes the field to develop the broadest tool to appeal to the most buyers.
From these conversations, we identified the importance of creating product certifications to provide consumers with signals about the quality of research used to design products that meet the needs of diverse learners. We identified four categories that aligned with the fields' priorities and co-designed the certification criteria.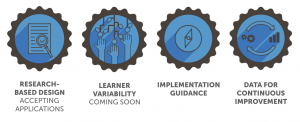 Research-Based Design
In February 2020, we launched the Research-Based Design product certification application. Digital Promise's product certification team collaborated closely with learning sciences experts to define the certification criteria and ensure we were designing a meaningful and rigorous signal for the field. The learning scientists also consulted on the application and the types of artifacts products could submit as evidence to meet the criteria.
Before opening this application widely, we piloted the application with product developers and with educators and administrators. We wanted to ensure that the signal would support edtech selection using clear criteria. Learn more about this design process in Designing Edtech that Matters for Learning: Research-Based Design Product Certifications.
What's Next?
The launch of the Research-Based Design product certification has been met with enthusiasm from educators, researchers, and product companies. As schools have shifted to online and distance learning, there has been an increased demand for clear indicators to help educators discover and select products they can trust to be research-based and to support meaningful learning experiences for their students. Our team is now collaborating with education leaders and educators to co-design the criteria for our next certification, which will signal whether a product attends to learner variability in its design.
To learn more about product certifications, visit our website and the Research-Based Product Promise. If you have any questions or would like to learn how to get involved, reach out to productcertifications@digitalpromise.org.
About the author:
Sierra Noakes leads collaborative, research-based projects driven by authentic needs at Digital Promise, an organization committed to accelerating innovation in education to improve opportunities to learn. By co-designing systemic improvements to the edtech marketplace with key stakeholders, Noakes hopes to infuse research into edtech product design and help educators make edtech decisions based on classroom needs. Prior to joining Digital Promise, Sierra was an educator and the curriculum coordinator for the Brooklyn Autism Center and received her M.Ed. from the Harvard Graduate School of Education. You can reach Sierra at sierra@digitalpromise.org.