Walking the Talk: Turning our Research Findings into Free, Practice-Centered Virtual Workshops
After surveying more than 4,000 educators across the country and spending time with staff in four schools with exemplary research use, we have learned so much about how schools use research, the conditions that support use, and persistent challenges they experience when using research. Even more – we learned how valuable research can be to driving improvement efforts, as educators quoted on this blog showed us.
But our new knowledge isn't helpful to the educator community unless our Center creates meaningful opportunities for educators to learn how to strengthen research use in their own practice. Walking the talk, as the saying goes. So we met with some of our esteemed educator colleagues – from local schools and from teacher associations – to help design a practical, useful set of workshops that build from some of our key findings.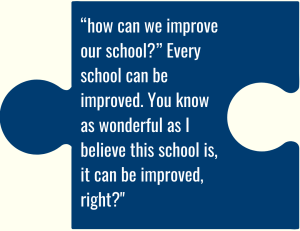 First, we include workshops that address barriers to finding and evaluating useful research. Our surveys show that most educators don't feel confident critically evaluating research and most rely on local brokers and education intermediaries to vet and translate for them. We want to enhance educators' confidence, especially among those formal and informal leaders to which educators turn for reliable information about improving practice.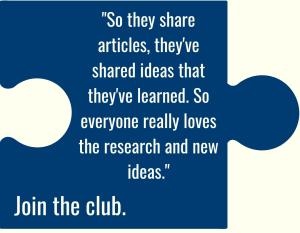 Second, we know that schools that demonstrated high levels of research use make that use part of their everyday routines. Engaging with research isn't more work – it is the work. Two workshops in our series feature strategies for engaging with research in common routines like staff meetings, PLCs, and leadership teams.
Third, our data suggest that prior experience with research (as a participant or even doing it!) as well as relationships with researchers are associated with greater confidence in research use abilities, stronger networks for accessing research, and overall beliefs about using research. One of our workshops helps educators think about building stronger ties with researchers – even building towards research-practice partnerships (RPPs) which have been shown to not only help educators use research but increase the usefulness of the research produced.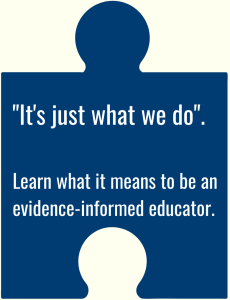 These three strands of findings are translated into seven virtual workshops featuring not only our Center's work but the expertise of educators and researchers committed to spanning the research and practice communities. We invite all formal and informal education leaders in the K-12 community to join us in one, some, or all of these workshops – and to access our free learning platform that will help continue and extend learning before, during, and after the series.
These workshops are free, virtual, practical, and useful.
Below, we share more about the specific workshops and hope that you can share this opportunity with other educators as we work to help strengthen educational opportunities and outcomes in all communities.
Kick off:
What is Research and Why Should I Be Using It?

February 8, 7-8pm EST  
Dr. Elizabeth Farley-Ripple, Dr. Samantha Shewchuk, & Debbie Micklos from the Center for Research Use in Education will describe what it means to use research and engage participants in a self-assessment of research use. 
Finding and Evaluating Research  
Evaluating Research: A Cost-Utility Framework
  February 10, 7-8pm EST

Dr. Fiona Hollands, Senior Researcher in the Department of Education Policy and Social Analysis at Teachers College, Columbia University and one of the creators of DecisionMaker, an online tool fir helping educators to make tough decisions, will be explaining how to use this tool as well as describing how the tool has helped school and district leaders. 
Finding and Accessing Useful Research
February 22,  7-8 pm EST
Erin Pollard of the What Works Clearinghouse, Noreen O'Neill and Laura Mikowychok of the Pennsylvania Evidence Resource Center, and Medha Tare and Jessica Jackson of Digital Promise will explain how to use data bases to find relevant research. 
Leveraging School Routines 
Using Research-Informed Theories of Change in PLCs 
February 16, 7-8pm EST
Dr. Chris Brown and Jane Flood of Durham University (UK) will share strategies that help teachers to use research-informed theories of change to drive instructional change and support student learning. 
Using the Marshall Memo in Teams
March 2, 7-8pm EST
Kim Marshall, author of the Marshall Memo, will be sharing approaches to engaging with research in teams, meetings, or with colleagues to spark thinking, discussion, and positive change. 
Creating Opportunities for Engagement
with Researchers 
What is an RPP and How Do I Get One? 
February 28, 7-8pm EST
Dan Gallagher, Curriculum Director at Shoreline School District (WA) and co-author of Creating Research-Practice Partnerships in Education, will be describing how to get started engaging with researchers. 
Wrap Up Session:
Taking Action as
an Evidence-Informed Educator 
March 10 7-8pm EST
Dr. Elizabeth Farley-Ripple, Dr. Samantha Shewchuk, & Debbie Micklos will help participants develop an action plan, whether they have attended one session or more. 
To register for any or all of the sessions, please go to https://Bit.ly/Research4PracticeSeries2022.  The sessions will also be an opportunity to network with colleagues from around the nation who are striving to use research to inform their practice.   Please feel free to share this information with other educators who would be interested.

About the Author:
Dr. Elizabeth N. Farley-Ripple, is an Associate Professor in the School of Education at the University of Delaware, co-PI at the Center for Research Use in Education, and Director of the Partnership for Public Education at the University of Delaware. Her research focuses on policy analysis and evidence-based decision-making in schools. She can be reached at enfr@udel.edu.
The Center for Research Use in Education is supported by the Institute of Education Sciences, U.S. Department of Education, through Grant R305C150017 to the University of Delaware. The opinions expressed are those of the authors and do not represent views of the Institute or the U.S. Department of Education.